Your average customer will do a lot of investigating before buying from you.
They'll inspect your customer reviews, look at your prices and then check their account balance to see if it's a match made in heaven.
It's human nature. We like to make thoughtful purchase decisions that add happiness into their lives. Not regret.
From the second they land on your website to the moment they hit the finish line and check-out, your visitors will interact with your website in dozens of ways. These interactions are a part of what we call user experience.
The user experience should be smooth, convenient and efficient. No hassle, hiccups or bumps in the road.
I gathered a few ideas to help you fine-tune your website's user experience. Hope you find them useful:
1/ Limit choice overload when possible
It's harder to make a decision when you're bombarded with too many options. Psychologists invented a name for this phenomenon. They call it choice overload. 
Perhaps bestselling author of Paradox of Choice Barry Schwartz puts it best:
Don't make choosing hard for your users. Limit choice overload with these straightforward design fixes:
Divide products by purpose
Category-based navigation works like a charm for many websites, but not all.
The trouble is, customers don't always see products in discrete categories. They sometimes think of products in terms of what they hope to achieve by buying them.
Let me give an example:
When on the hunt for a camera, your average customer might not pay so much attention to whether it's a mirrorless or DSLR camera. They'll probably be more concerned about whether the camera suits their needs – whether that's vlogging, capturing gorgeous landscapes or snapping stunning shots in the night.
Categories like "mirrorless" or "DSLR" would resonate more with people that can tell the difference between the two. People like professional photographers and photography enthusiasts who have a better understanding of camera types and technical specifications.
In a scenario like this, we could create two navigation sections: one where users can shop by category and another where they can shop by purpose. The best of both worlds.
This Texas-based retailer use the navigation style quite well on their website.
Spy Guy is well aware that people tend to buy surveillance equipment to deal with the concerns they have. Concerns like preventing theft, recording instances of workplace harassment or watching the babysitter.
So they went ahead and added a convenient "Shop by Concern" feature, enabling users to narrow down their product choices based on the specific concerns they have.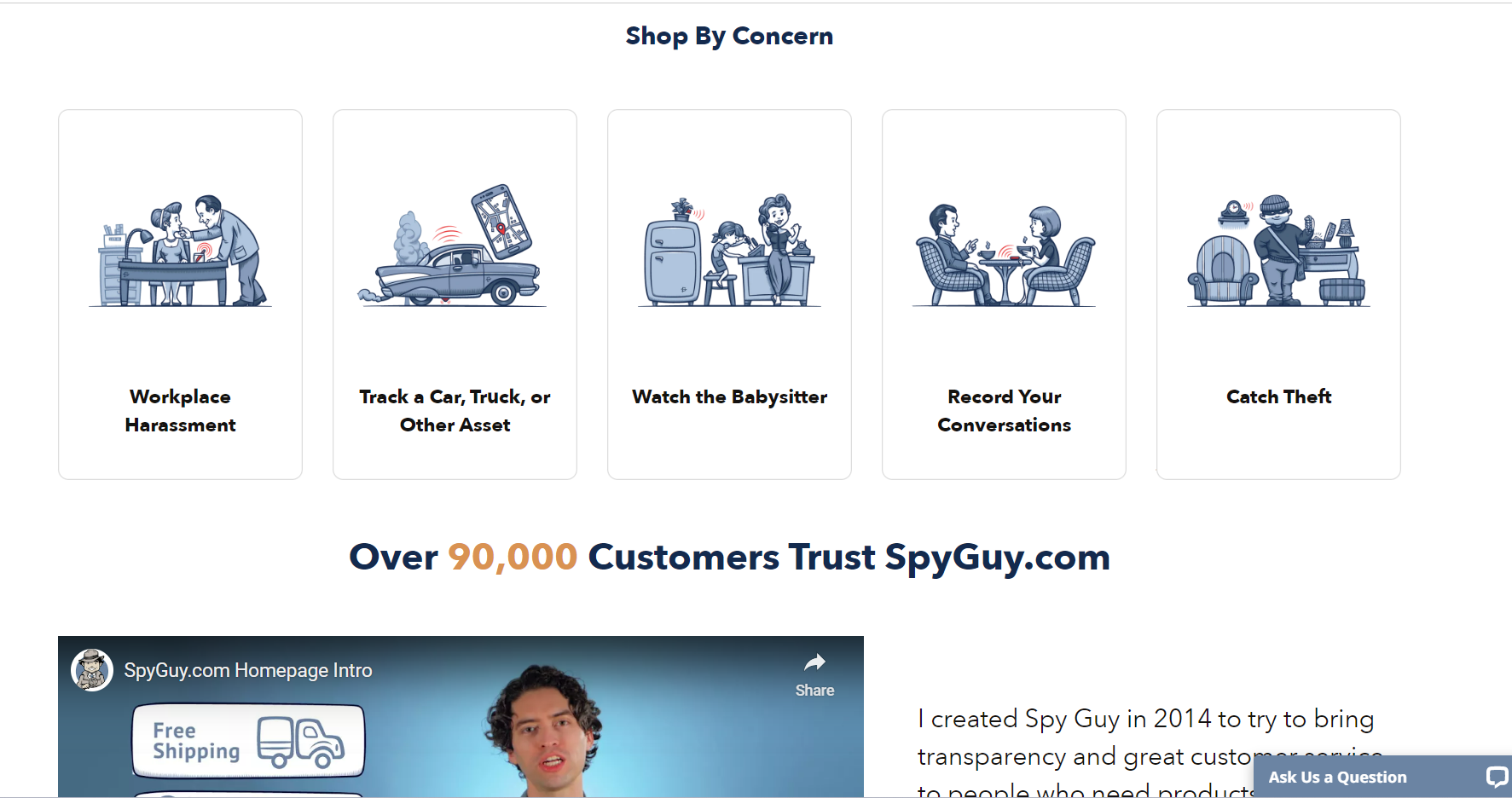 But they've also included a Shop by Category section for those users who have a better idea about what they want: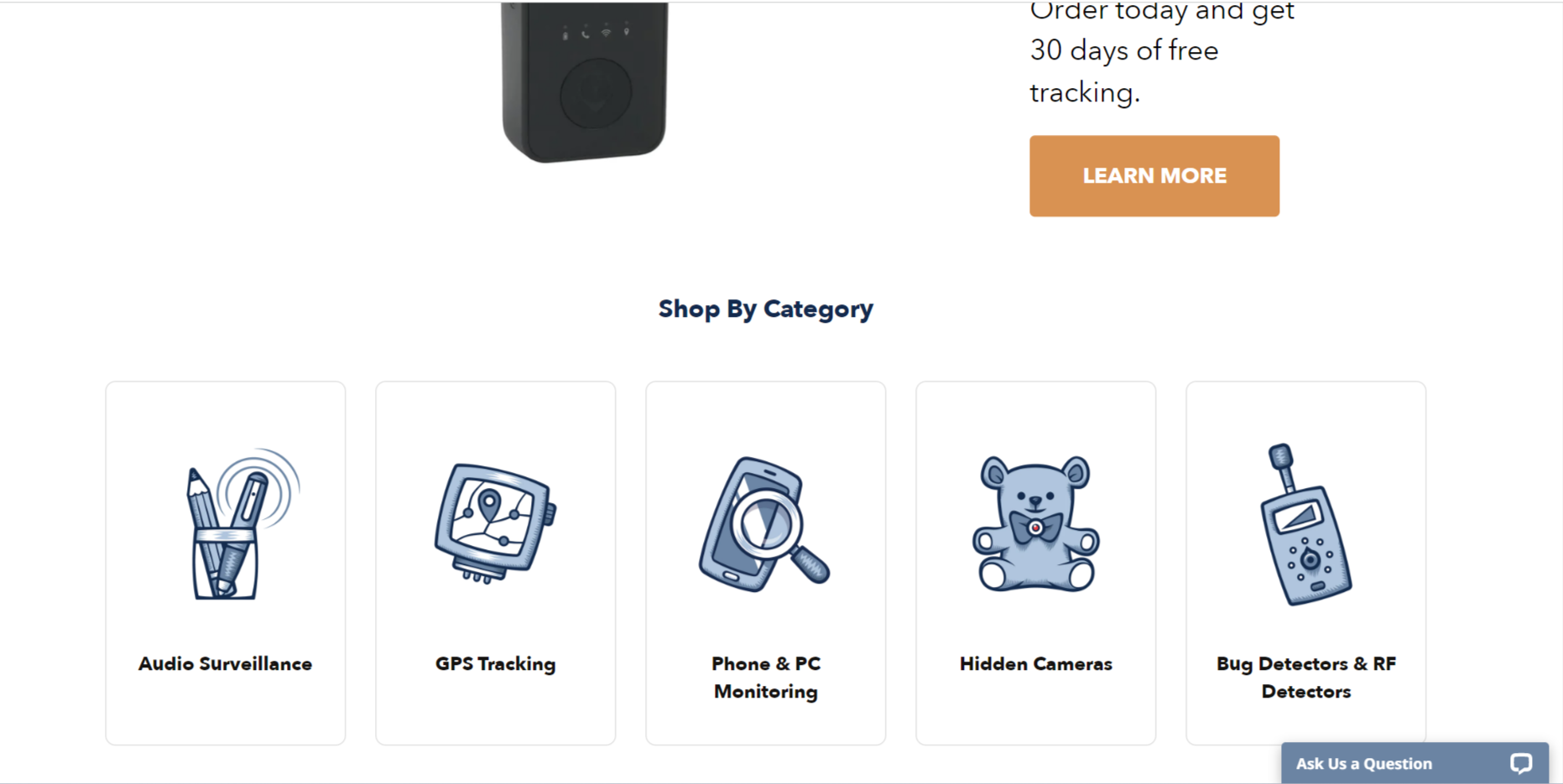 Sweet! Saves the user time and makes it easier for them to do business with you. Two birds, one stone.
Tag products with personalised recommendations
You're the expert. You know your products and services inside and out, every nook and cranny, every pro and con. 
If anyone can lead your customers to greener pastures, it's you. 
Help your customers make the best purchase decisions by providing personalised product recommendations. 
Let's create a scenario. Say, a customer strolls into a shop looking for cameras.
We'd need to consider many factors before we can recommend the perfect match for them. Are they a beginner or a veteran photographer? What's their budget range? Do they want to use the camera for a specific purpose?
Certain products suit certain customers better. And this is where opinionated recommendations shine. 
Label your products according to your recommendations. In this scenario, we could tag these labels on our different cameras:
Perfect for beginners
Perfect for landscape photography
Perfect for vlogging
Show your value with a product comparison page
Product comparison pages are another way to guide purchase decisions.
The idea is simple:
You transparently compare your product or service to similar ones from your competitors.
This method is especially effective if you're selling expensive, feature-heavy products. Comparison pages slot in perfectly at the consideration stage of the sales cycle, and can help shoppers identify the best-fit product from a quick glance.
The main ingredients to a product comparison page include:
Stick to less than 5 products: compare 2 to 5 products for best results. Don't overwhelm shoppers with tons of products.
Show off products: display images of the products/services you're comparing. Add high-quality visuals and hook reader attention with stunning graphics.
Consider shopper interests: highlight the most important features at the top of the chart.
Less is more: keep text to a minimum and avoid listing complicated features.
Include social proof: add customer reviews and ratings to your charts. You could, for example, compare overall customer satisfaction rate.
If you're on a tight budget and don't have much experience in design, you can use free online graphic design tools. Here are some free-to-use tools that provide customisable comparison charts:
If you want a more professional look, hire a pro designer to create a custom design.
HelpCrunch, for example, created a custom-designed comparison page to show how their customer service software stacked up against their competitor Intercom.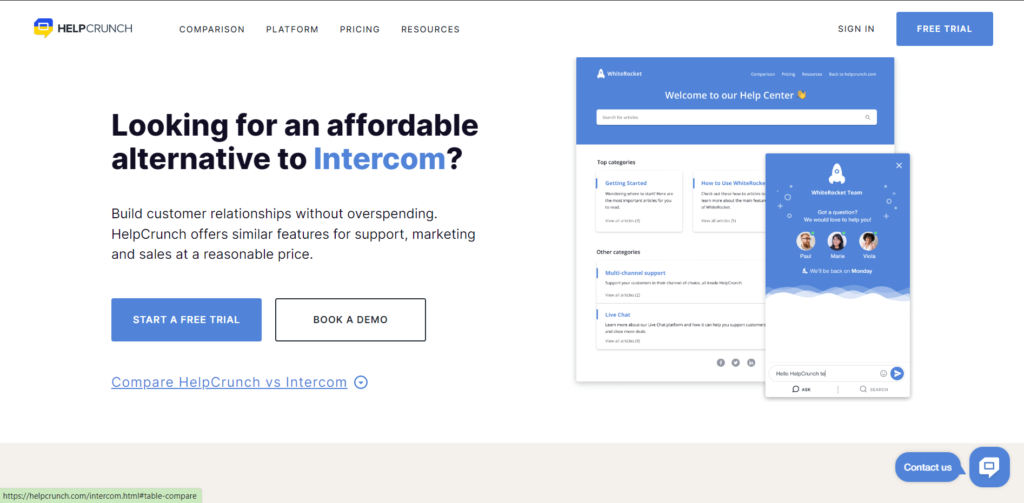 HelpCrunch's comparison page doesn't only cover their software's features and benefits; they also add testimonials from real customers who jumped ship and switched from Intercom to HelpCrunch: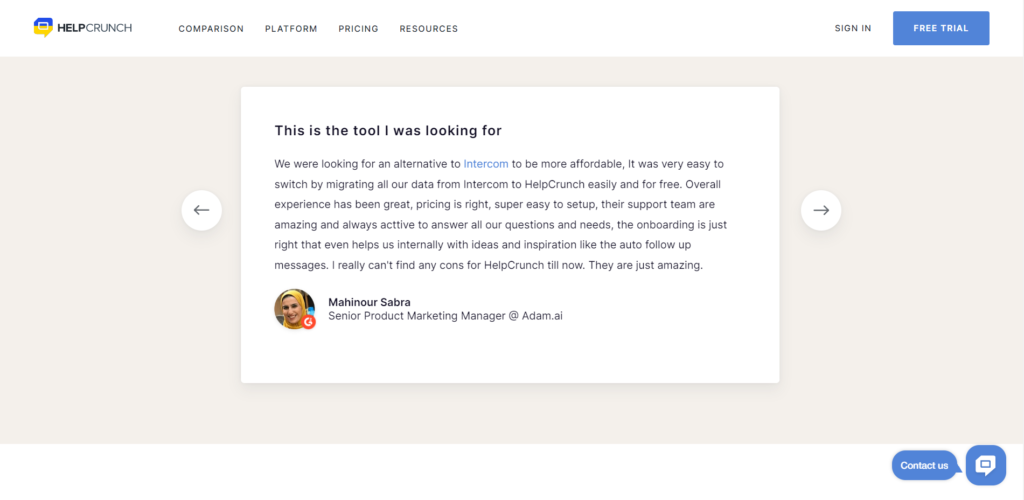 Use an interactive quiz to guide buyers
Brands are using quizzes to provide a more personalised experience across the board. Quizzes add a unique but delightful twist to the user experience.
Online eyewear retailer Warby Parker use a short quiz to prepare customers for their home try-on experience. With only eight questions, the simple quiz focuses mostly on the user's style preferences and face shape.
The purpose of the quiz is to help users narrow down suitable frame options. One question at a time, the it builds an idea of which frames would suit the customer the most: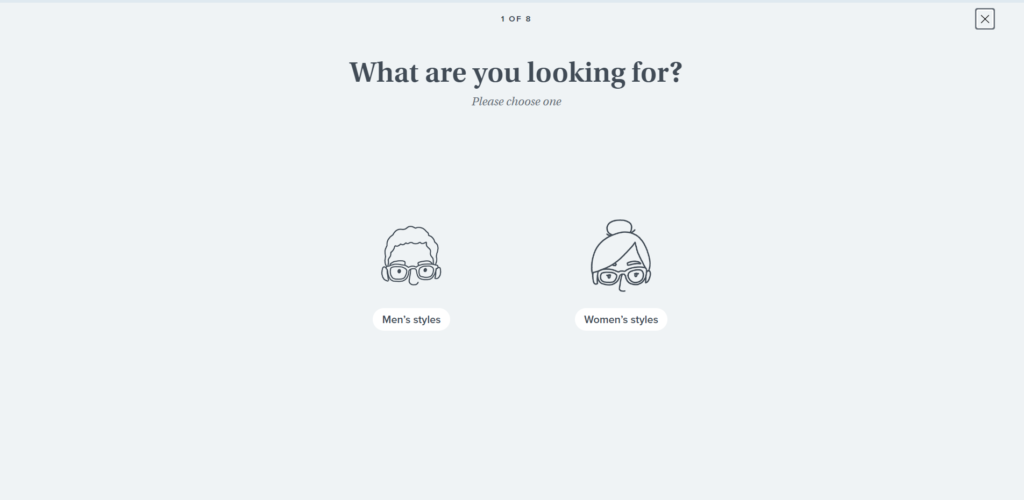 Next, the quiz asks the user about their face width. The user has the option to skip any questions they're unsure about. There's a little skip button at the bottom of the page: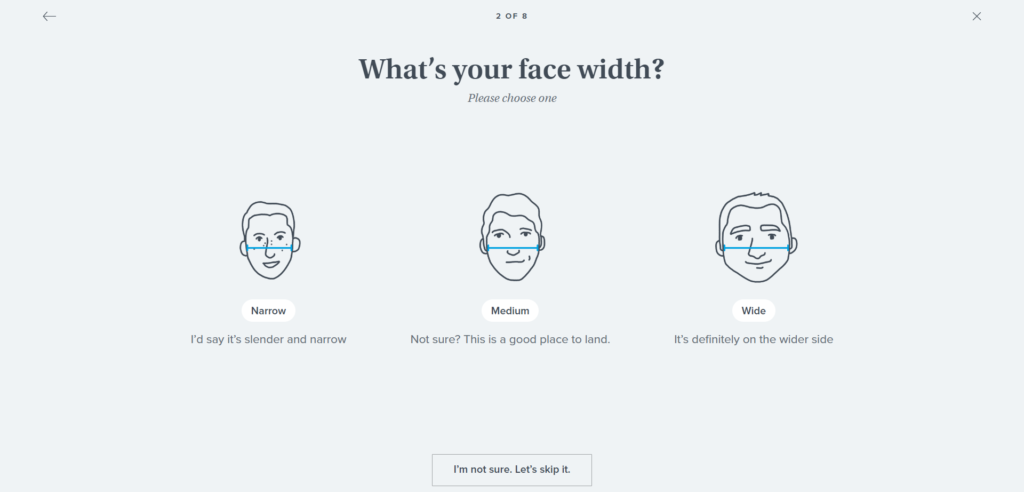 Afterwards, the quiz asks the user which colours they like and what materials they prefer and a few more straightforward questions.
Five questions later, the user arrives at a product page that displays frame recommendations based on the their answers. Warby Parker even grants the user the power to select a colour or favourite style: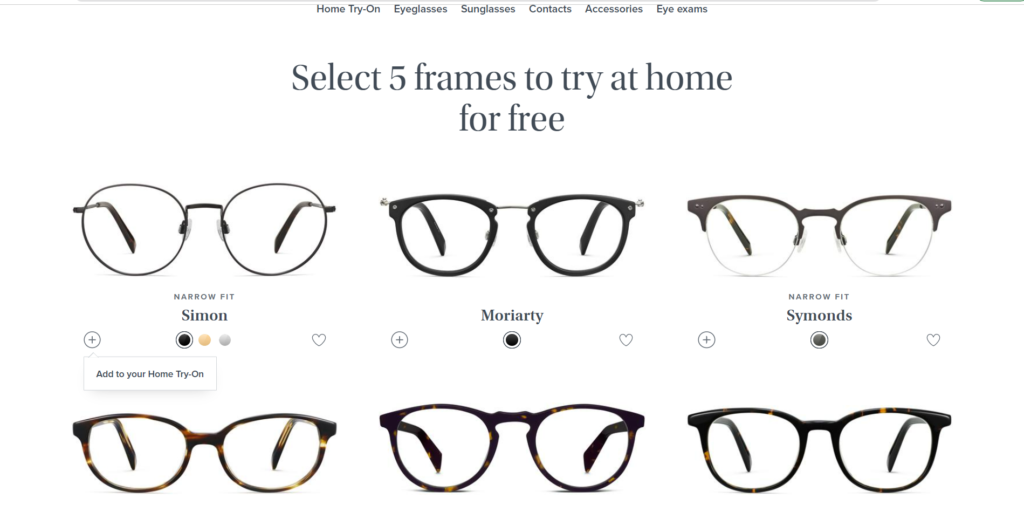 It's interactive, simple and engaging. No pressure.
If a user is uncertain about the answer or has no preference, they can skip the question. The user can also choose multiple answers on some questions, such as "Which colour glasses do you prefer?"
The flexibility of user response makes the quiz more accessible for indecisive users that would otherwise get stuck on a question.
I wear glasses and I know the struggle of finding the right pair. Shout out to Warby Parker for doing the Lord's work.
Whether they're your fault or not, mistakes will come. That's life.
Your website servers crashed. You ran out of products in a busy period. There's a delay in the shipping over here, a disruption in the supply chain over there. Problem after problem.
It can feel like the end of the world is looming over your head. But it's not. At least it doesn't have to be. 
Yes, the goal should be to create an entirely problem-free user experience – but if mistakes do occur, preparation is your best weapon.
Be prepared for the worst, as they say. Improving your 404 error pages is a good place to start.
Make the most of your 404 error pages
A user may end up on the 404 page for several reasons, including:
The URL is broken
The page moved and wasn't redirected
The server is down
The user typed in an incorrect URL
The page never existed
Long story short, if a user tries to visit a page that cannot be found, they'll be sent to the doomed 404 page.
It pays to put a little extra thought into your error pages.
Why? Because a clever or engaging error page reinforces your brand message and increases visitors' chances of staying on your site rather than bouncing off altogether.
A customised 404 page leads to: 
Better user experience – default error pages can confuse users or give them the impression that something serious has gone wrong. Adding clarity to your error pages can lower the user's concern from "broken website" to "minor inconvenience"
Keep users on your site – a custom 404 error page gives the user a clear path to a new destination on your website, keeping them on your site.
HelpScout does this well.
They've cleverly redirected links on their 404 page to their homepage and customer support documents. 
And to add a cherry on top, they've sprinkled in adorable dog illustrations to bring a smile to your face. Because why not?